Recent Sales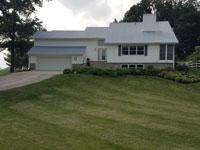 22643 Longbrook Drive, Geneseo, IL 61254 (Sold 3/29/2019 Sold Price $458,000.00)
Geneseo, IL 61254
22643 Longbrook Drive, Geneseo, IL 61254
3,224 square foot home on 21.3 acres
Full Listing (PDF)
American Legion - North School St. (Sold 2/28/2018 Sold Price $70,000)
Atkinson, IL
Atkinson American Legion for sale.
Commercial building sitting on over 3 acres, with 3200 square feet of finished area.
Full Listing (PDF)
109 N state Street (Sold 09/21/2017 Sold Price: $127,500)
Atkinson, IL
House with lots of potential. Currently set up as an up/down duplex, but can be converted to a single family home.
Full Listing (PDF)
Real Estate Private Sales
We specialize in the sale of Henry County residential homes and farm land. We handle farm land, residential and commerical properties. Our residential department stresses effective presentation of properties to prospective buyers and a proven advertising campaign. Our goal is to sell every home and farm we list. We are also proud to have become one of the largest volume, farm real estate agencies in the area.